I realized that sometime ago I blogged about my Katie Jo, but never updated…
First of all, for all the psycho-rabid-spay-and-neuter-your-pets-or-you're-going-to-hell readers, I'll retell the back story. We adopted Katie from our local animal shelter the day before my birthday–she's a beautiful brindle chihuahua/dachshund mix (a chi-weenie 🙂 ). We were told when we adopted her that we would need to get her spayed within 7 days because she was in heat and had been brought in with a male dog with whom she'd had, ahem, relations (he was a terrier/spitz mix). So, I dutifully took her to the vet and I opted for a full panel of bloodwork along with the spaying. They called me later that day to tell me that she had heartworms and could not go under anesthesia because her heart couldn't take it.
So, we had two options, either go on the fast track treatment, which consisted of one shot and a month later a second and third shot to kill the heartworms and then we could get her fixed. Although each session was $500-600 we went ahead with the fast track so we could get her spayed as soon as possible. Otherwise, the other option was to have her be on heartworm medication for 3 years (dogs in TX have to be on hw meds anyway just because of the weather/environment) and I could get her fixed after the 3 years was up.
So…we got the first shot, and during that month I noticed her getting fatter. She was a little chunky when I adopted her, so I thought that maybe I was just feeding her too much. When I dropped her off at the vet's for her second round, they called me about 2 hours later to tell me they couldn't give her the second round of treatment because, surprise! She's preggers…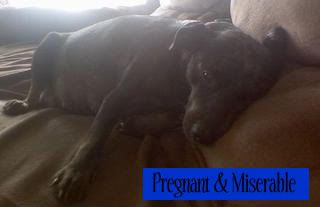 Well, on Friday, March 15th at around 3:30 am (at my mother's house no-less) Katie began giving birth. For the next 12 hours she had a litter of 6 pups, 1 boy, 4 girls, and one stillborn undeveloped pup (the vet told us to expect that some of the pups wouldn't be alive or might be mutated because of the first shot).
So, we have a full house; Katie Jo, and in order of birth, Buddy, Sandy, Gobi, Crackle, and Sammie (born almost 7 hours after Crackle). Katie is a great mommy, and it was obvious very early on that she'd come from an abused home, she would belly up if you came near her, involuntary peeing, and wouldn't love on anyone but me. I think that giving birth was the best thing for her because she's calmed down and lets Trace and the kids love on her now, and she even comes when they call.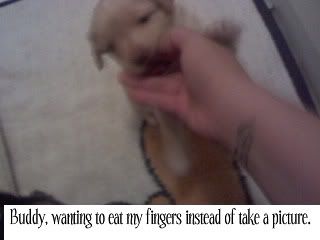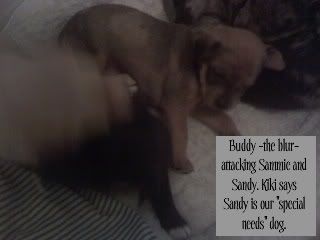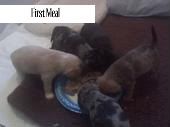 We're having a blast, but they're starting to get loud, messy, and very playful. I have to clean out their room once a day, and all I can say is, eew. We plan on keeping one pup, probably Sammie as she seems to be the smartest and most loving, but we'll see. Hopefully we can find good homes for all of them! My mom's already decided to take Buddy, and I have a prospective home for one of the others. I would hate to have to take the others back to the shelter, so we'll just have to hope for the best. 🙂
So that's the update with the fam. I've decided that even though all my sisters are having babies, I don't need to. I had puppies.